Advertising
Ads are of two types —
Display (or boxed) Ads and Classified Ads.
THIS IS A CLASSIFIED AD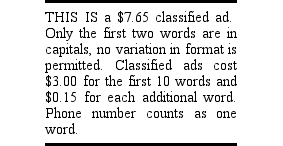 Ad Rates
Styles: A display ad can have different sizes and styles of typefaces and include drawings, photos or borders.
Width: Exact widths for camera ready copy (in inches) are as follows: 1.9375" (1 column); 4" (2 columns); 6.125" (3 columns); 8.1825 (4 columns) or 10.25 (full page width). These widths account for gutters between columns. If ads do not conform exactly to these widths, we may need to adjust the sizing, resulting in an additional charge if the ad becomes taller as a result.
Height: For the purposes of computing price, height is rounded up to the next highest half inch. Minimum height of a Display Ad is 1.5". The maximum height less than a full page is 14.5" and a full page is 16". For example, the minimum Display Ad size is1 column (~2 inches) wide by 1.5 inches high, and would cost $14.40
Base rate will be $9.80 per column inch.
Non-profit rate will be $6.70 for qualifying organizations.
Contract rates depend on volume purchased per 13-week quarter and start at $9.30 per column inch with a minimum of two insertions.
| | | |
| --- | --- | --- |
| Rate Tier | Column inches/quarter | Rate per inch |
| T1 | 45-64 | $9.30 |
| T2 | 65-99 | $8.70 |
| T3 | 100-129 | $8.10 |
| T4 | 130-259 | $7.80 |
| T5 | 260-519 | $7.50 |
| T6 | 520-1039 | $7.15 |
| T7 | 1040+ | $6.85 |
Rates shown are net of commission.
Payment:  All ads must be prepaid unless advertiser has been approved for credit.  Credit application available upon request or from www.greenbeltnewsreview.com.
Contact Information:
Address: 15 Crescent Rd, Suite 100, Greenbelt, MD 20770,
Phone: 301-474-4131; Fax: 301-965-8247, E-mail: ads@greenbeltnewsreview.com.
Other Display Ad Charges
Preferred Placement charge: 25% extra, $10.00 minimum
Inserts
GNR can insert pre-printed materials (e.g. flyers) within the newspaper at the time of printing for distribution throughout the city.  Contact the Ad Desk for further information.
Classified Ad
First two words are in capitals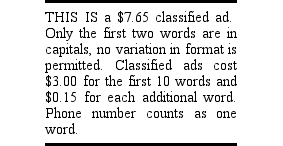 No variation in format
$3.00 for the first 10 words, $0.15 for each additional word
Phone number counts as one word
Deadlines
Camera-ready

advertisements must be submitted by 8 p.m. Tuesday. Ads that are not camera ready must be received by 4 p.m. Monday to be prepared for publication.
Display advertisements must be submitted no later than 8 p.m. Tuesday (camera-ready) or 4 p.m. Monday if layout is required. Materials for publication may be emailed to ads@greenbeltnewsreview.com, mailed to 15 Crescent Rd.,Suite 100, hand-delivered during office hours, or deposited in our box in the Co-op grocery store (by 7 p.m. Tuesday). On Thanksgiving and, occasionally other holidays, the schedule may change. We will notify readers in advance.
Unless credit has been approved, ads must be prepaid by cash, check or money order.
Credit
Frequent advertisers may apply for credit.  Please see the credit-application information and application instructions.  All other ads must be prepaid: cash, check, or money order.
Credit Cards
Billed ads – if paid by charge card a 3% fee will be charged
Prepaid ads – may be paid by credit card without additional fee
Request a call from the Ad Desk