At the beginning of each meeting, Earth Squad members join hands in a circle and, at the count of three, shout "CHEARS!" From there, they are onto the business at hand: maintaining gardens and edifying themselves in the subjects of cultivation and healthy living, as well as making themselves into stewards of their environment and community. The original Earth Squad was a joint tutoring and environmental education project of Adelphi Friends Meeting and the Chesapeake Education, Arts and Research Society (CHEARS) begun in 2002 for students at Mary Harris Jones Elementary School in Adelphi. After it lost its momentum, Carolyn Lambright-Davis and her husband Bill revitalized it in 2016 at Springhill Lake Elementary School with just 11 students; the number is now over twice that. Carolyn and Bill were and are currently volunteers for CHEARS, and Earth Squad continues to be a sponsored project of this organization.
The Earth Squad meets on Monday and Wednesday of every week during the school year. Students make their way to the Springhill Lake Recreation Center clubhouse straight from Springhill Lake Elementary. Time is provided for a snack and homework. Participants, from kindergarten to fifth grade, set up the tables and chairs themselves before donning their green Earth Squad T-shirts. Earth Squad also includes students from James McHenry Elementary and Turning Point Academy.
Lambright-Davis lauded Springhill Lake Recreation Center directors, Frank Jones and Brian Butler, for their indispensable support to Earth Squad as well as many other groups. The goal of the Earth Squad, and its parent organization CHEARS, is to create a "zeal," says Lambright-Davis, for several things: environmentalism, healthy living and volunteerism and in the end, an appreciation for partnerships. "No one does it alone," says Lambright-Davis. Earth Squad seeks to represent all of Greenbelt through its efforts and all are welcome. There is an open door to all interested groups. The Earth Squad maintains the Three Sisters Gardens and the Greenbelt Food Forest, all sponsored by CHEARS. The three gardens are located at Springhill Lake, Schrom Hills Park and the Community Center.
Read more about this exciting project by clicking here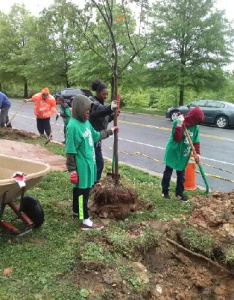 .