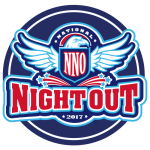 National Night Out (NNO) participants throughout the city went under cover on Tuesday, August 1. Collars were up, hats down and umbrellas open as people tried to keep dry amid heavy rain that broke out about an hour after evening events began.
Police, people, pets, firefighters, families, friends and dozens of clubs and groups took part in Greenbelt's NNO.
Activities took place in every sector of the city, with the largest at Beltway Plaza, in conjunction with Franklin Park Apartments. There were music and treats from Three Brothers Pizza, Mission BBQ and Gus's Fried Chicken.
Various city groups, Berwyn Heights Volunteer Fire Department and Rescue Squad and U.S. Park Police joined Greenbelt's finest and bravest, police, firefighters and associated staff. Kids and adults experienced fire trucks, police cars and Dragoon – a rescue vehicle that looks like a tank.
At Roosevelt Center, those at the Old Greenbelt Theatre stood outside under the ticket office overhang to eat, what else but popcorn, and watch, not a movie, but rain pouring down. MakerSpace, which seems to be able to fix almost anything, was unable to still the wrath of Mother Nature. Meanwhile, pizza runners from Generous Joe's sped through sheets of rain to deliver hot-out-of-the-oven pizza to those gathered outside the Greenbelt Federal Credit Union. The drink of the evening, despite so much rainwater falling from the sky, was bottled water from the Co-op, handed out by Joe Gareri, Co-op Outreach Coordinator.
Read more of this story in the August 10 News Review